09.25.18
5 Keto Smoothies That Will Help You Lose Weight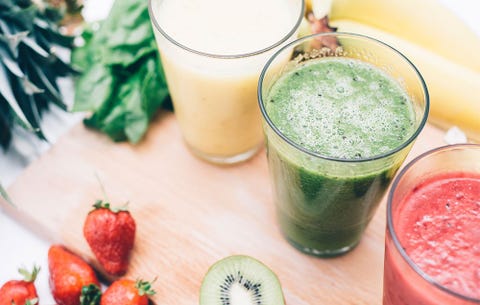 Smoothies are kind of amazing. They're a quick and easy way to grab some food when you're on the go, they help you get a bunch of nutrients at once, and, of course, they taste pretty awesome.
But when you're on a high-fat, low-carb diet like keto, it's natural to wonder if you can even have smoothies. After all, plenty of them are loaded up with fruit, juice, milk, and other ingredients that aren't exactly keto-friendly.
Luckily, plenty of culinary creatives have come up with delicious and nutritious keto smoothie recipes. What do they have in common? They're packed with heart-healthy polyunsaturated and monounsaturated fats from whole, healthy foods, says NYC nutritionist Gina Keatley, C.D.N. Think: raw nut butters, coconut oil, chia seeds, and other fat-filled yummies.
But what about the carbs and sugar? Don't worry, they're also low-carb, and most of the carbs they do pack from from fiber, says Keatley. Apart from helping you stay fuller, longer, aiding in digestion, and even boosting your heart health, fiber can also help keto dieters meet their macro goals. Here's why: While you should cap your daily carb intake at 50 grams on a keto diet, you still need to get between 20 and 30 of those grams from fiber. So, yeah, fiber works to your advantage.
Ready to start sipping? We scrolled through Instagram to find the keto smoothie recipes you need to double tap. Even better, they are all nutritionist approved.
Green Mean Machine Smoothie
This recipe from @lyl_lisa combines avocado, kale, spinach, chard, broccoli, stevia, coconut milk, cream, macadamia nut oil, avocado oil, and vanilla protein. If you don't have those particular oils on hand, Keatley says canola, olive, safflower, sunflower, and peanut oil can also do the trick. "Even though these fats are in the same family, the chemical makeup is different and variety is key with a diet like this," she says.
Related: 'I Tried The Ketogenic Diet For Weight Loss—Here's What Happened'
View this post on Instagram
2nd meal at 8pm. I've been experimenting with fasting until noon then a small light 8oz fat smoothie for a quick light breakfast and lifting/cross training at 3-4:30pm -no fatigue, no dizziness, no "hangry", and I worked my way up to my average 135 deadlift / 145 sumo deadlift since my left arm's hematoma/coming back to Chicago taking care of my dad. Working my way back up, tryna see how lifting and keto feels without carbs and if my lifts can surpass what I usually do. Weight is now 105lbs from 109lbs in keto. FOOD JOURNAL- GREEN MEAN MACHINE SMOOTHIE 1/2avocado, kale, spinach, chard, broccoli, stevia, coconut milk, heavy whipping cream, 1TBSP macadamia nut oil, 1TBSP avocado oil, 1 scoop isopure vanilla protein TOTAL FAT CAL: 594 PROTEIN: 32G TOTAL NET CARBS: 5.4 #myfitnesspall #leangains #ketogains #irunonketones #greensmoothies #inventnewthings #foodideas #ketosmoothies #health
A post shared by Lisa Lum (@lyl_lisa) on
Blueberry Almond Shake
Try this recipe from @therealhealthkitchen: Blend together a small amount of organic blueberries, unsweetened almond milk, raw almond butter, and MCT oil. Yes, it has a little bit of blueberries (which have sugar), but it's good as an occasional treat when you just need something sweet, Keatley says.
This swap will make any smoothie so much more filling:
Strawberry Smoothie
For this smoothie, @positivelydiesel mixes vegan Strawberry Shakeology, unsweetened almond or hemp milk, raw organic coconut oil, and turmeric root. Strawberry Shakeology has about a third of your daily allotment of carbs, so if you want to spend that elsewhere, Keatley recommends swapping in a sugar-free whey protein powder and adding some Splenda for sweetness.
Related: 7 Supplements That Melt Fat
View this post on Instagram
Strawberry Anti-Inflammatory Shake-O [Ketogenic] . . 🥄 1 scoop vegan 🍓 Strawberry Shakeology 🥛 8oz Unsweetened Almond Milk or Hemp Milk 🥄 2 tbsp raw organic coconut oil 🌱 2-3 raw turmeric root pcs (skin peeled) ❄️ 1 cup ice . . Blend🌪 Sip 👅 and BOOM 💫 Keto Goodness!!! 🙌 . . #keto #ketosis #ketodiet #ketolife #ketogenic #lowglycemic #shakeology #shakeo #ketoshakeo #almondmilk #hempmilk #coach #coachrecipe #ketocoach #ketorecipes #ketorecipes #ketosmoothie #lowgylcemic #beachbody #teambeachbody #coconutoil #ketoshake #ketosmoothies
A post shared by Coach Donna Dodd 🏋🏻‍♀️ (@positivelydiesel) on
Lean Mean & Green Keto Smoothie
This recipe from @mindmeetsbody__keto simply calls for avocado, MCT oil, and coconut cream. The smoothie is great for people who need a little more bulk in their diet, Keatley says. "If you're needing to put down some more calories, this is a good option," she adds.
Related: The Ketogenic Diet Might Burn 10 Times More Fat Than The Standard American Diet
View this post on Instagram
Lean Mean & Green Keto machine… AVOCADO + MCT OIL + COCONUT CREAM.. this is great for getting in your remaining fat macros in for the day!!#ketogeniclife #ketosis #ketoliving #toronto #mississauga #brampton #healthy #healthyfood #healthylifestyle #healthyeating #ketond #foodporn #foodofinsta #tomato #garden #fresh #freshfood #wholefoods #holistichealth #green #smoothie #avocado #greensmoothie #ketosmoothies #ketosmoothie🔋
A post shared by Ember Louise (@embereats_) on
Keto Chocolate Smoothie
This recipe from @youketo lets you get a little taste of sweetness without blowing your macros. Mix coconut milk, zucchini, romaine lettuce, spinach, chia seeds, avocado, cacao powder, cocoa powder, and monkfruit sweetener for a tasty treat. This recipe keeps your carb count low thanks to all the green veggies. The cacao powder is also a good way to get some protein and flavor in without adding carbs, she says.
View this post on Instagram
Keto chocolate smoothie!! Just the bomb! Healthy and Delicious!! Helps curb that sweet tooth 🙂 🍧🍦🍩🎂 Serves 2 100ml of coconut milk 2iches of zucchini Handful of romaine Handful of spinach Tbsp of chia seed(soak in 1/2 cup of water for 5mins) Half an avocado 2tbsp of cacao powder 2tbsp of Camino's Dutch-Pressed Cocoa Powder 1-2tsp of Lakanto Blend and Enjoy! 🙂 #keto #ketosmoothies #ketolife #hflc #ketolifestyle #ketogenic #ketodiet #eatwelllivewell #nutritionalketo #ketosis #eatveggiesonketo #healthyfats #healthandwellness #youarewhatyoueat #nutritiousanddelicious
A post shared by Youketo (@youketo) on
Source: Read Full Article