10.17.18
Making cards to decorating thalis: 10 things kids can do this festive season
From making Rangoli to handmade cards and performing skits, the festive season is an opportunity for kids to play and learn.
By Amita Bhardwaj
With the festive season going on, to say that the very air has a certain excitement, is to put it mildly. And the ones most excited about the upcoming holiday season as also about the festival staple of new clothes, sweets and crackers, are children. Yet, as you get busy with buying gifts for exchange and catering to a whole stream of visitors, their excitement can very easily turn to boredom.
Here are some handy tips to not just keep them engaged but also ensure that they partake of the spirit of the festive season and also remain in touch with our traditions.
1. Personal touch
In a milieu of instant gratification with the many technology tools, physical greeting cards almost have an old world charm. What can be better than have your kids make their own personalised greeting cards that can be given away with those festive gifts? Season's greetings acquire a whole new meaning when they are calligraphed by those little hands. Alternately, you could also encourage the children to create handmade gift boxes for those Diwali gifts.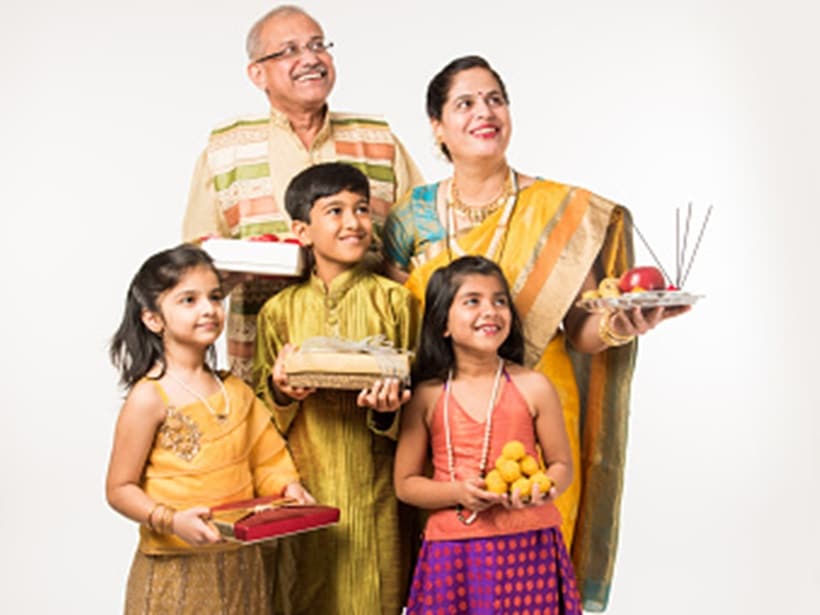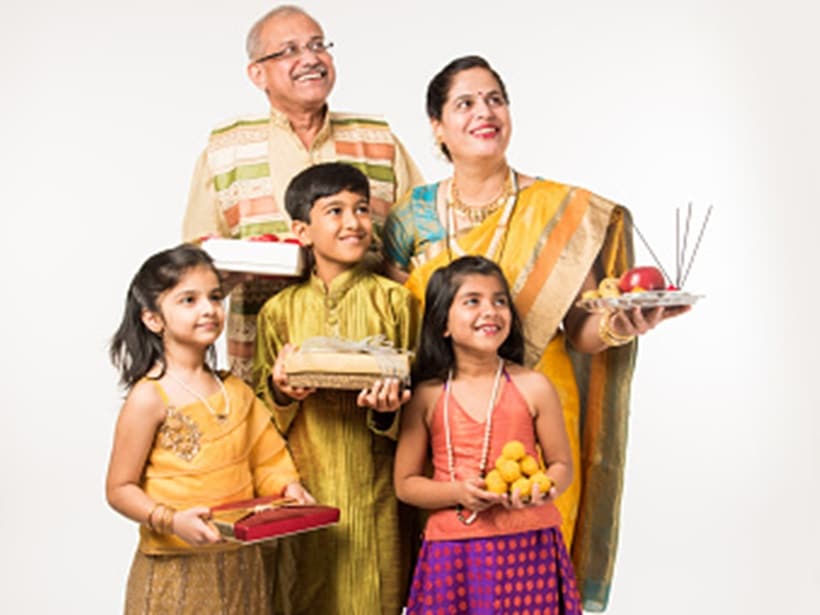 2. Pooja thali
An important preparation is the Pooja thali. While you ensure that you have all the necessary ingredients for the thali, let your children decorate it themselves. It will be a pleasure to see them planning for it, buying those supplies-glitter paper, paint, mirrors and more, and getting down to some serious work!
3. Rangoli
What better way to unleash their creativity than to make them responsible for the festive rangoli. Let them choose from among the various options available-flowers, colour, rice, etc. With every visitor commenting on their work of art, see their confidence jump several notches!
4. Storytelling
There isn't a better time than the festive season to share tales from the epics and pass on the wisdom they contain. What you can also do is to arrange for storytelling competitions, skits and role-plays with the neighbourhood children, where they enact some mythological stories.
5. Turn home-cleaning into a family activity
With a little bit of creative execution, you could turn the chore of cleaning the home into a fun-filled family activity. Ask for books to be grouped by colour or turn the sorting into a game of finding hidden objects. You are not only ensuring some quality time together but also passing on a tradition, in the spirit of fun, not a chore.
6. Help them don the Master Chef hat
For those who are inclined to the culinary arts, this also may be the best time to teach your child to cook those savouries that are a must have in the festive season. Keep it age appropriate, of course and have lots of fun not just cooking together, but also knowing that you are passing on some family traditions.
7. Unity in diversity
Depending on the child's age, you could also ask the child to create an artwork, where on the map of India they create the various festivities celebrated at this time of the year and how they are done. It will give the child a very good idea about the common thread running through all festivities and an appreciation of the diverse culture of our country.
8. Experience the joy of giving
The festive season also provides enough coachable moments to teach your child the value of compassion. It is a good time to take the child to an orphanage, old age home or blind school, not just to share some goodies but also to give them the gift of time. The light you will see in your child's eyes will shine much brighter than those of the diyas.
9. Help them be eco-warriors
Besides being a time of joy, festivities can often be the time when we tend to throw caution to the wind and harm the eco system in more ways than one. Not only can you pass a social message to the kids, you can also turn the neighborhood kids into eco-warriors. See them in turn put together drives to ensure that we celebrate the season, responsibly. They could do small nukkad nataks, run anti-pollution drives and more.
10. Party Planners
You could also turn the kids into party planners where they plan a get-together in the building complex that you live in or simply plan a party at home with friends and relatives in attendance. From planning the food to the games to the giveaways, see them get into the festive spirit effortlessly!
(The writer is Director-Curriculum with Footprints Childcare, a national play school & day care chain.)
Source: Read Full Article