05.07.18
Dairy Queen Is Selling Jurassic Park-Themed Blizzards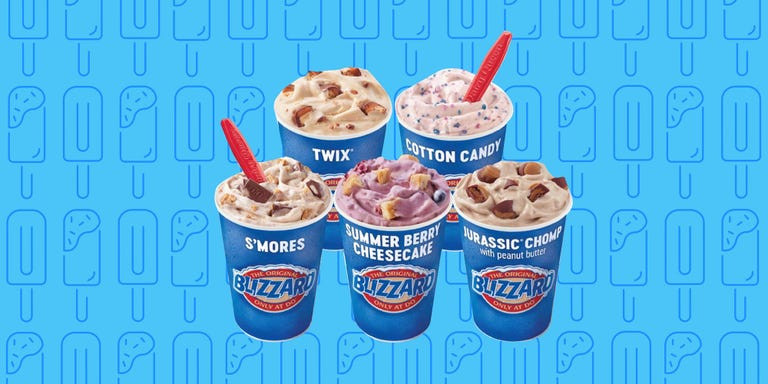 Jurassic World: Fallen Kingdom doesn't come out until June 22, but you can celebrate early with Dairy Queen's summer Blizzard menu. The line-up is coming to ice cream shops this summer and features three brand-new swirls and two returning favorites.
The raptor-approved (probably) "Jurassic Chomp" dish is DQ's largest candy mix-in ever, the brand says, with choco-dipped peanut butter bites and fudge mixed into vanilla soft serve. It's not too far off from the limited-time Jurassic Smash treat, featured in stores around the time Jurassic World premiered in 2015. Apparently, dinos really like peanut butter.
Also new to the summer menu is the Summer Berry Cheesecake Blizzard, mixed with cheesecake pieces, raspberries, blackberries, and blueberries, and the Twix Blizzard treat, made with candy and caramel sauce.
It wouldn't be summer without a s'mores variation, so thankfully DQ brought back the marshmallow and graham cracker-filled S'mores Blizzard, along with the Cotton Candy blend. Dairy Queen is celebrating the summer release with an interactive event in New York City on May 23. Interior designer Nate Berkus designed the two rooms dedicated to the S'mores and Cotton Candy flavors, and during the public event, donations will be accepted to benefit the Children's Miracle Network Hospitals.
From: Delish
Source: Read Full Article