03.27.23
Fate of abortion rights in Georgia come down to this major court case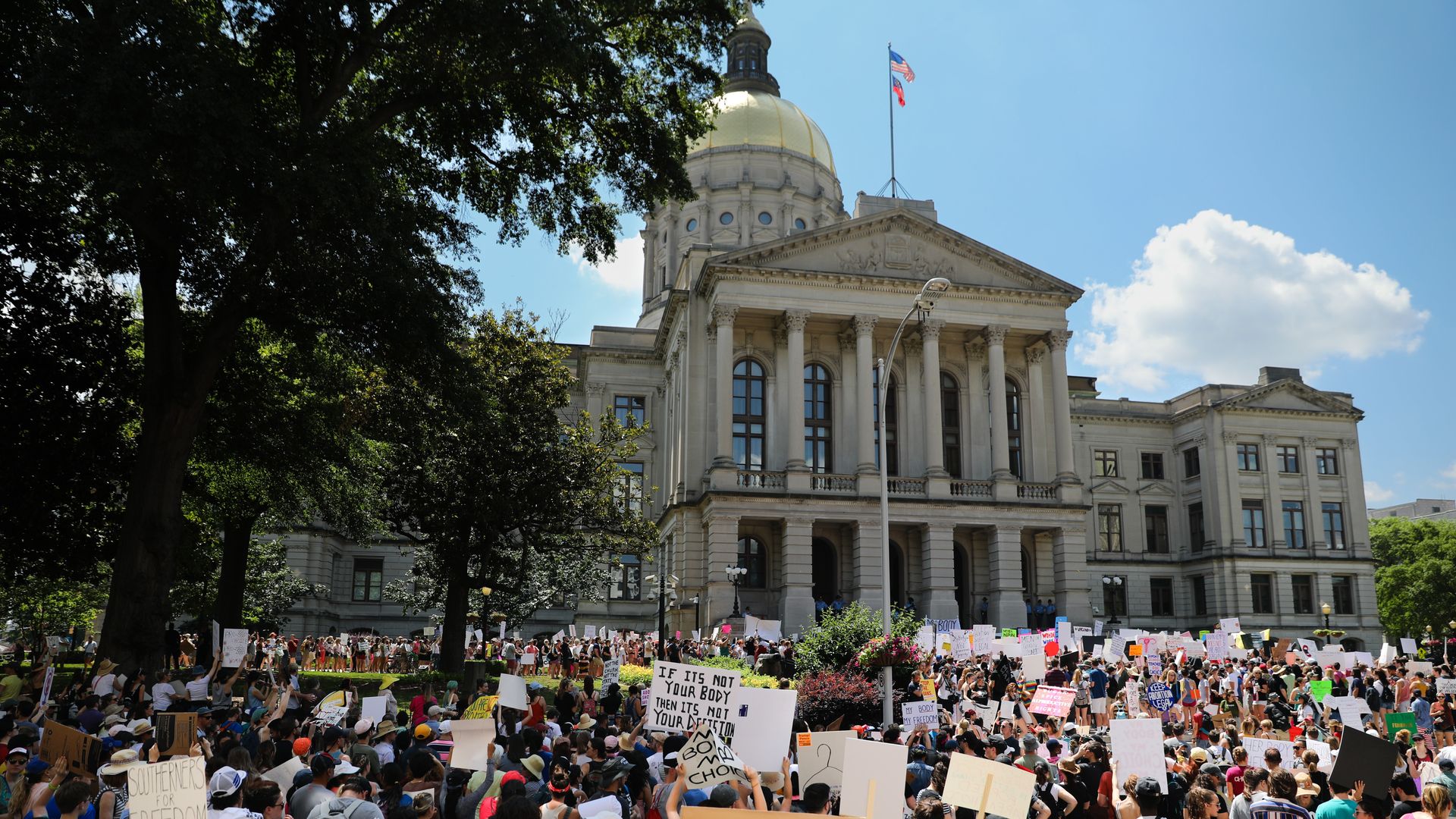 Demonstrators hold signs during a protest against Georgia's "heartbeat" abortion bill outside of the Georgia State Capitol building in Atlanta, Georgia, U.S., on Saturday, May 25, 2019. Photo: Elijah Nouvelage/Bloomberg via Getty Images
The future of abortion access in Georgia hangs in the balance as the state's Supreme Court will hear arguments Tuesday in a case on the state's six-week abortion ban.
Why it matters: This case represents abortion rights advocates' last significant legal chance to overturn Georgia's anti-abortion law, which is currently in effect and has been snarled in federal and state courts since 2019.
State of play: After appeals, the fate of the ban now rests with the state's highest court, which temporarily reinstated it last fall pending the case.
A lower court judge struck down the law as unconstitutional in November.
It first went into effect last summer when a federal appeals court lifted an inunction on the law after the U.S. Supreme Court overturned Roe v. Wade.
Abortion rights advocates then filed suit in state court.
Zoom in: The 2019 law prohibits abortions once cardiac activity has been detected in an embryo — generally at about six weeks, which is before many people know that they are pregnant.
Abortion rights advocates today recommend Georgians past that point in their pregnancy travel to North Carolina or South Carolina — where looser restrictions are in place.
Between the lines: Fulton County Superior Court Judge Robert McBurney overturned the law in November because, he wrote, it was void at the time of passage given U.S. Supreme Court precedents in place in 2019 (including Roe v. Wade) prohibited regulation of abortion before viability.
Georgia Republican Attorney General Christopher Carr has argued that the law is valid because the same written federal constitution has been in effect the whole time, despite the Supreme Court's historic reversal in the Dobbs decision.
Lawyers for abortion rights advocates, including the ACLU and Planned Parenthood, argue that past state precedent backs up the lower court ruling that "the Georgia Constitution requires reenactment of a statute that was unconstitutional when enacted."
They argue the legislature should have to pass the law again, under current precedent, to make it valid today.
Of note: The Georgia General Assembly has studiously avoided any further abortion-related legislation since its emotional battle over this bill 2019.
Anti-abortion GOP elected officials including Gov. Brian Kemp, who handily won re-election in the midterms, have cited the pending court battle as the reason.
What's next: A court ruling must come within six months.
Go deeper:
Source: Read Full Article