09.01.21
Med Students Lead Skin Cancer Screening, Education Event
Those who self-identify as Hispanic or Black have a lower self-perceived risk of melanoma. In fact, people of color receive little to no information concerning skin cancer risks and prevention strategies and experience a longer time from diagnosis to definitive surgery, resulting in far worse outcomes, compared with non-Hispanic Whites.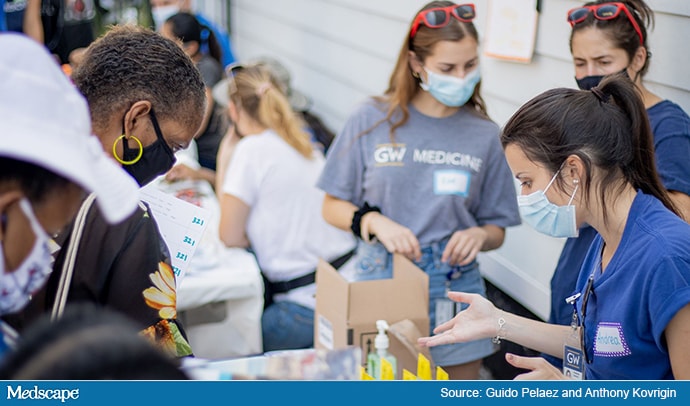 Volunteers and participants at the Learn2Derm skin cancer prevention fair, on July 10, in Ward 8, Washington, DC.

This disparity is reflected in statistics showing that the average 5-year survival rate for melanoma is 92% in White patients but drops down to 67% in Black patients. Low income is also a contributing factor: Patients with lower incomes experience greater difficulty accessing health care and have greater time to diagnosis and a worse prognosis and survival time with melanoma. Despite economic advancements, Black Americans are still economically deprived when compared with White Americans.
This reality is what led Sarah Millan, a 4th-year medical student at George Washington University, Washington, to focus on the Ward 8 community in Washington – one of the poorest regions in our nation's capital – well known for limited access to medical care and referred to as a health care desert. "Ward 8 has a population that is 92% Black and does not have a single dermatology clinic in the vicinity – my vision was to bring together the community through an enjoyable attraction conducive to the delivery of quality dermatologic care and education to a community that has none," said Millan.
This low-resource population that is socioeconomically and geographically isolated is likely unaware of skin cancer risks, prevention strategies, and signs or symptoms that would warrant a visit to the dermatologist.
In light of these inequalities, "Learn2Derm: Skin Cancer Prevention Fair" was born – an attempt to close this disparity through educational interventions focused on skin cancer presentation, prevention, and early detection, while also exploring the attitudes and behaviors around skin cancer and sunscreen use in the community through data collected from optional surveys.
On Saturday, July 10, 2021, dermatologists from George Washington University, department of dermatology and medical students from George Washington School of Medicine and Health Sciences and Howard University College of Medicine in Washington, transformed Martha's Outfitters in Ward 8 into a decorated, music-filled venue. Part of the Ward 8 council member's 40 Days of Peace initiative, the Learn2Derm fair provided free skin cancer screenings by dermatologists, while students staffed various stations, delivering fun and interactive educational lessons organized by Millan under the mentorship of Adam Friedman, MD, chair of dermatology at George Washington University.
Volunteers at the Learn2Derm skin cancer prevention fair on July 10, 2021, in Washington, DC, including George Washington University medical student Sarah Millan, second from left.

"It is our responsibility to support our communities through care, but even more importantly, combating misinformation and misperceptions that could interfere with healthy living," said Friedman.
Activities included arts and crafts sponsored by the American Academy of Dermatology Good Skin Knowledge lessons, games with giveaways sponsored by the Polka Dot Mama Melanoma Foundation and IMPACT Melanoma, Skin Analyzers (to see where sunscreen was applied, and where it was missed) supplied by the Melanoma Research Foundation (MRF) and Children's Melanoma Prevention Foundation (CMPF), and even Viva Vita virtual reality headsets that are catered towards the senior population – but enjoyable to anyone. Prizes and giveaways ranged from ultraviolet-induced color-changing bracelets and Frisbees, SPF lip balms, sunglasses – and of course – an abundant supply of free sunscreen. Many community members expressed their gratitude for this event and were impressed by the education that was enlivened through interactive games, activities, and giveaways. One participant shared the news of the event with a friend who immediately stopped what she was doing to come by for some education, a skin cancer screening, and free skincare products. While parents went in for a free skin cancer screening, their children were supervised by medical student volunteers as they colored or participated in other stations.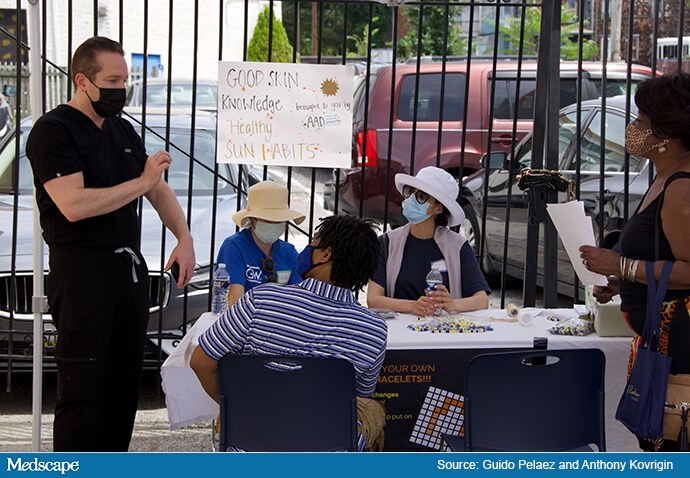 Adam Friedman, MD, (left) at the Learn2Derm skin cancer prevention fair in Washington, DC.

Millan's involvement with the National Council on Skin Cancer Prevention's Skin Smart Campus Initiative facilitated the support and partnership with multiple national organizations central to the event's success, including the AAD, the National Council on Skin Cancer Prevention, the Skin Cancer Foundation, IMPACT Melanoma, Polka Dot Mama Melanoma Foundation, MRF, and CMPF. The donations of these organizations and businesses in the sun protection industry, along with faculty and medical students who share a passion for delivering dermatologic care and resources brought this exciting plan into fruition. The aim of Learn2Derm is not for this to be a single event, but rather the first of many that will continue to deliver this type of care to a community that is in need of greater dermatologic attention – an ongoing occurrence that can have a lasting impact on the Ward 8 community.
Major sunscreen manufacturers that donated sunscreen for this event included Avène, Black Girl Sunscreen, CeraVe, Cetaphil, EltaMD, and Neutrogena. Coolibar, which specializes in sun-protective clothing, also made a donation of multistyle hats, gaiters, and clothes for attendees.
References
1. Harvey VM et al. Cancer Control. 2014 Oct;21(4):343-9.
2. Tripathi R et al. J Am Acad Dermatol. 2020 Sep;83(3):854-9.
3. Beyer Don. "The Economic State of Black America in 2020" U.S. Congress: Joint Economic Committee.
4. Culp MaryBeth B and Lunsford Natasha Buchanan. "Melanoma Among Non-Hispanic Black Americans" Prev Chronic Dis;16. 2019 Jun 20. doi: 10.5888/pcd16.180640.
5. "Ask the Expert: Is There a Skin Cancer Crisis in People of Color?" The Skin Cancer Foundation. 2020 Jul 5.
6. Salvaggio C et al. Oncology. 2016;90(2):79-87.
Written by Sarah Millan and Adam Friedman, MD.
This article originally appeared on MDedge.com, part of the Medscape Professional Network.
Source: Read Full Article