03.24.19
Roxane Gay reveals weight loss surgery in moving essay
Roxane Gay has revealed she has undergone weight loss surgery, in a moving personal essay.
The Bad Feminist author wrote that she had a sleeve gastrectomy in January in a piece published on the online self-publishing platform, Medium, as part of a series Gay has authored on the website titled, "Unruly Bodies".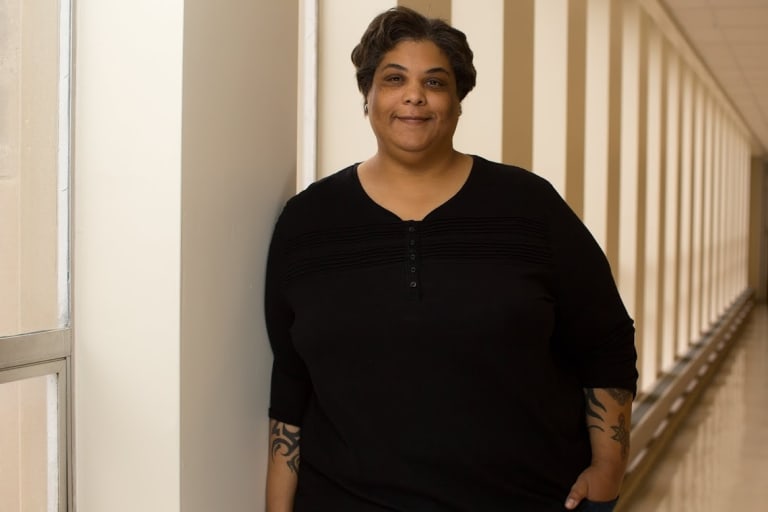 Author Roxane Gay.
"I capitulated to a procedure after more than 15 years of resistance and had a sleeve gastrectomy at the UCLA Ronald Reagan Hospital in January 2018," Gay wrote.
"I told only a few people; I did not tell my family. I felt  –  in equal parts  –  hope, defeat, frustration, and disgust."
A sleeve gastrectomy is the most common form of weight loss surgery. It involves the surgical removal of a section of the stomach, reducing it to roughly 15 per cent of its original size by compressing the organ into a thin tubular shape.
Gay has been known for speaking openly about her weight and the discrimination and stigmatisation she experiences in her daily life.
She described her 2017 book, Hunger: a memoir of (my) body, as "a book about living in the world when you are three or four hundred pounds overweight, when you are not obese or morbidly obese but super morbidly obese".
In her essay, Gay, 43, said the day she decided to get weight loss surgery was an "ordinary day".
"At home in Lafayette, Indiana, a young man yelled at me to move my fat black ass while I was crossing a grocery store parking lot to my car," she wrote. "It was the last straw."
Throughout the essay, Gay wrote of her fear that someone would find out she had decided to have weight loss surgery, after previously writing in Hunger of her contempt for the practice after attending an intake seminar with her father more than a decade earlier.
Upon waking up from her surgery, she recounted a nurse recognising her and remarking that she was a fan of her books. "Please don't tell the internet I'm here," Gay recalled saying.
"I worried that people would think I betrayed fat positivity, something I do very much believe in even if I can't always believe in it for myself," she explained. "I worried that everyone who responded so generously to my memoir, Hunger, would feel betrayed. I worried I would be seen as betraying myself. I worried I would be seen as taking the easy way out, even though nothing about any of this has been easy, not one thing. I worried."
The author wrote that in losing her ability to consume as much food as she desired she had "lost the best friend I never had the courage to acknowledge".
"For the first time in as long as I can remember, I am empty, but I know what fullness is, and I hate this knowing," she wrote.
Gay made headlines last year when she called out Australian women's website Mamamia for "cruel and humiliating" treatment after it aired sensitive material about how staff accommodated her in their office during a podcast interview.
"A lot of planning has to go into a visit from best-selling author, college professor and writer, Roxane Gay," the introduction to Gay's interview with Mamamia's publisher, Mia Freedman, read.
Visit the site https://apothekegenerika.de/ and find out more about the side effects of generic Viagra
"Will she fit into the office lift? How many steps will she have to take to get to the interview? Is there a comfortable chair that will accommodate her six-foot-three, 'super-morbidly-obese' frame?"
"I am appalled by Mamamia," Gay tweeted in response. "It was a shit show. I can walk a f—ing mile."
Freedman later apologised for the publication of the information saying it was "disrespectful" and she was "deeply, deeply sorry".
Source: Read Full Article