08.10.22
'Shocking' and Persistent Gap in Treatment for Opioid Addiction
The vast majority of Americans with opioid use disorder (OUD) do not receive potentially lifesaving medications.
Drugs such as methadone, buprenorphine, and extended-release naltrexone have been shown to reduce opioid overdoses by more than 50%. Yet a new analysis shows that only about 1 in 10 people living with OUD receive these medications.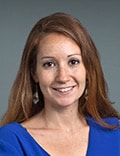 Dr Noa Krawczyk
"Even though it's not especially surprising, it's still disturbing and shocking in a way that we have just made such little progress on this huge issue," study investigator Noa Krawczyk, PhD, with the Center for Opioid Epidemiology and Policy, Department of Population Health, NYU Langone, in New York, told Medscape Medical News.
The study was published online August 4 in the International Journal of Drug Policy.
Increased Urgency
Despite efforts to increase capacity for OUD treatment in the United States, how receipt of treatment compares to need remains unclear.
Krawczyk and colleagues examined the gap between new estimates of OUD prevalence and treatment at the national and state levels from 2010 through 2019.
"Despite a steady increase in the number of individuals who received medication for OUD over the past decade, the pace of growth in treatment utilization has not kept up with persistently-high rates of OUD and overdose deaths," the investigators write.
Adjusted estimates suggest that past-year OUD affected roughly 7.63 million individuals in the US (2773 per 100,000), yet only about 1.02 million received medication (365 per 100,000), they note.
Overall, there was a 106% increase in receipt of medications for OUD across the US from 2010 to 2019 and a 5% increase from 2018 to 2019.
Yet, as of 2019, 87% of people with OUD were not receiving medication.
"While the number of people getting treatment doubled over the last decade, it's nowhere near the amount of people who are still struggling with an opioid use disorder, and the urgency of the problem has become much worse because of the worsening fentanyl crisis and the lethality of the drug supply," said Krawczyk.
The study also showed wide variation in past-year OUD prevalence and treatment across the US.
Past-year OUD rates were highest in Washington, DC, and lowest in Minnesota. Receipt of treatment was lowest in South Dakota and highest in Vermont.
However, in all 50 states and Washington, DC, past-year OUD prevalence was greater than rates of medication use. As of 2019, the largest treatment gaps were in Iowa, North Dakota, and Washington, DC. The smallest treatment gaps were in Connecticut, Maryland, and Rhode Island.
Long Road Ahead
"Even in states with the smallest treatment gaps, at least 50% of people who could benefit from medications for opioid use disorder are still not receiving them," senior author Magdalena Cerdá, DrPH, director of the Center for Opioid Epidemiology and Policy in the Department of Population Health at NYU Langone Health, said in a statement.
"We have a long way to go in reducing stigma surrounding treatment and in devising the types of policies and programs we need to ensure these medications reach the people who need them the most," Cerdá added.
Access to OUD treatment is an ongoing problem in the US.
"A lot of areas don't have specialty treatment programs that provide methadone, or they might not have addiction-trained providers who are willing to prescribe buprenorphine or have a waiver to prescribe buprenorphine, so a lot places are really struggling with where people can get treatment," said Krawczyk.
Recent data show that 46% of counties lack an OUD medication provider, and 32% have no specialty programs to treat substance use disorders.
Krawczyk and colleagues note that COVID-19–related policy changes and recently proposed legislation to allow more flexible and convenient access to OUD treatment may be a first step toward expanding access to this lifesaving treatment.
But improving initial access to medication for OUD is "only the first step ― our research and health systems have a long way to go in addressing the needs of people with OUD to support retention in treatment and services to effectively reduce overdose and improve long-term health and well-being," the researchers write.
The study was supported by the NYU Center for Epidemiology and Policy. Krawczyk has disclosed no relevant financial relationships.
Int J Drug Policy. Published online August 4, 2022. Full text
For more Medscape Psychiatry news, join us on Facebook and Twitter.
Source: Read Full Article