09.23.22
Recent Research into Urinary Tract Infections (UTIs)
Introduction
Bacterial behavior over the infection cycle of UTIs revealed
Scientists develop vaccine strategy for urinary tract infections
Scientists develop new AI that can identify UTIs
References
---
Urinary tract infections (UTIs) are very common and can be detrimental to health and quality of life. Recent figures estimate that more than half of women will suffer a UTI at some point in their life, and almost one in three will develop a UTI before they reach the age of 24.
Nearly all UTIs (80%) are caused by uropathogenic E. coli (UPEC). Data shows that this pathogen is becoming increasingly resistant to currently available antibiotics. This is worrisome as it reduces the efficacy of antibiotics. Antimicrobial resistance is now the leading cause of death due to bacteria worldwide.
Therefore, new research is vital to combatting antimicrobial resistance and developing new treatments and preventative strategies to protect people, particularly those most at risk, from UTIs.
Image Credit: ivector/Shutterstock.com
Bacterial behavior over the infection cycle of UTIs revealed
Scientists at the University of Technology Sydney (UTS) recently published results from their work in Nature Communications detailing how they used state-of-the-art microscopy to reveal how UPEC bacteria spread and multiply.
The research, carried out at the Australian Institute for Microbiology and Infection at UTS, took a close look at the shapeshifting behavior of UPEC. The team found that during a UTI infection cycle, UPEC bacteria develop spaghetti-like filaments that measure hundreds of times their original length before returning to their original rod-like shape. To discover this, the scientists used a human bladder cell infection model to watch the bacteria throughout its cycle.
It is still not fully understood why the bacteria make this transformation; however, the research showed that it was vital for the bacteria to return to their original form before reinfection could occur.
The study leveraged advanced microscopy to visualize the two cell division proteins and observe their localization dynamics during the reversal process. From watching these dynamics, the team established that filaments do not follow the rules for regulating cell division in bacteria. By revealing initial clues about the regulation of the reversal of filamentation during infection, the team at UTS paved the way for establishing novel approaches to tackling UTIs. The research will likely lead to the discovery of new treatment options.
Scientists develop vaccine strategy for urinary tract infections
Several vaccines against UTIs have been studied in clinical trials; however, they have been unsuccessful, and currently, no effective UTI vaccines are available. Researchers at Duke University have developed a new vaccination strategy to overcome this. Published in the Proceedings of the National Academy of Sciences, the researchers deserve their new vaccination strategy that has the potential to eradicate bacteria and prevent future infections.
Read Here: Urinary Tract Infections in Children
The team had previously observed that the immune system did not respond sufficiently to resolve bladder infections. They saw that while the immune system released repair cells, it did not dispatch many barrier cells to fight off the bacteria, allowing the pathogen to live on and attack the bladder again.
The new strategy involves 'teaching' the bladder to fight off invading bacteria, overcoming this insufficient immune system activation. The vaccine the team developed is administered directly to the bladder. Their highly effective vaccine antigen was combined with an adjuvant capable of enhancing the recruitment of bacterial clearing cells. Their study showed that the vaccine was more effective than a traditional intramuscular vaccination.
The research describes the development of a potentially highly effective bladder vaccine that could both clear up residual bacteria as well a prevent the risk of future infections.
Image Credit: Blue Planet Studio/Shutterstock.com
Scientists develop new AI that can identify UTIs
As artificial intelligence (AI) technology begins to mature, applications are being established in a wide range of sectors. Healthcare is one such sector that significantly benefits from advancing this technology. Recently, scientists at the University of Surrey, England, developed new AI technology capable of identifying urinary tract infections (UTI).
In a paper published in PLOS ONE, the team described how they leveraged a technique known as Non-negative Matrix Factorisation to identify markers of UTIs. The technique was then coupled with novel machine learning algorithms to establish a platform capable of detecting the early symptoms of UTIs.
The study was part of the TIHM (Technology Integrated Health Management) for dementia project, overseen by the Surrey and Borders Partnership NHS Foundation Trust in partnership with the University of Surrey and industry collaborators. It was conducted with patients with dementia, for which UTIs present one of the top causes of hospitalization. The new AI technology could significantly reduce the prevalence of UTIs in this cohort, thus reducing hospitalization, improving the quality of care and quality of life for this with dementia, and reducing the economic burden of the group of diseases.
Given the urgency of developing new and effective methods to prevent and treat UTIs, it is likely that more research will emerge in the coming years that will bring us closer to novel therapeutics and detection platforms.
References:
Enshaeifar, S., Zoha, A., Skillman, S., Markides, A., Acton, S., Elsaleh, T., Kenny, M., Rostill, H., Nilforooshan, R. and Barnaghi, P., 2019. Machine learning methods for detecting urinary tract infection and analysing daily living activities in people with dementia. PLOS ONE, 14(1), p.e0209909. https://www.sciencedaily.com/releases/2019/01/190116115531.htm
Söderström, B., Pittorino, M., Daley, D. and Duggin, I., 2022. Assembly dynamics of FtsZ and DamX during infection-related filamentation and division in uropathogenic E. coli. Nature Communications, 13(1) 3648. https://www.nature.com/articles/s41467-022-31378-1
Wu, J., Bao, C., Reinhardt, R. and Abraham, S., 2021. Local induction of bladder Th1 responses to combat urinary tract infections. Proceedings of the National Academy of Sciences, 118(10). https://www.pnas.org/doi/full/10.1073/pnas.2026461118
[Furthering reading: Urinary Tract Infection]
Last Updated: Aug 30, 2022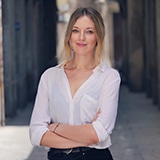 Written by
Sarah Moore
After studying Psychology and then Neuroscience, Sarah quickly found her enjoyment for researching and writing research papers; turning to a passion to connect ideas with people through writing.
Source: Read Full Article