05.25.18
These are the best fish tacos you'll ever eat.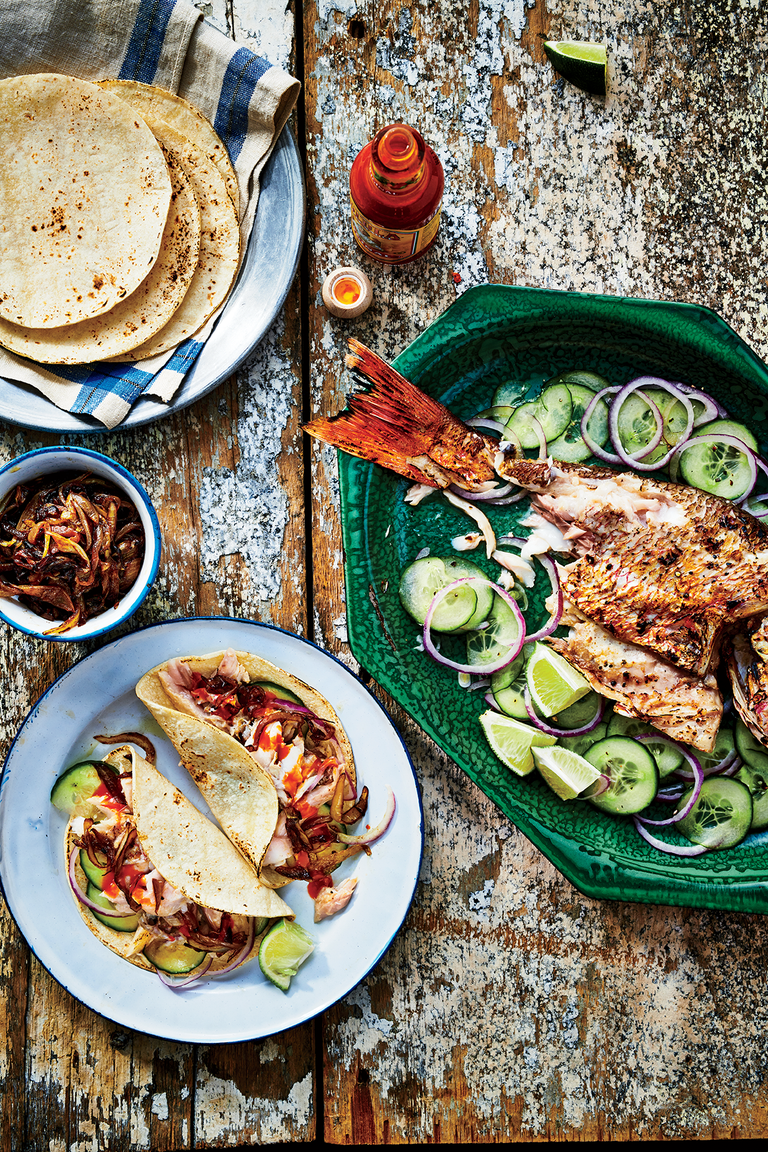 Want to try the best fish tacos you've ever had? Then, make this recipe inspired by Coni''Seafood in Cali­fornia, where you''ll taste the grill­ing traditions of Nayarit, a small state southeast of Baja along the Pacific coast of Mexico. The local Pescado Zarandeado dish is typically served with a basket of hot, fragrant tortillas and a bowl of onions that were cooked in savory seasoning down to caramelized softness.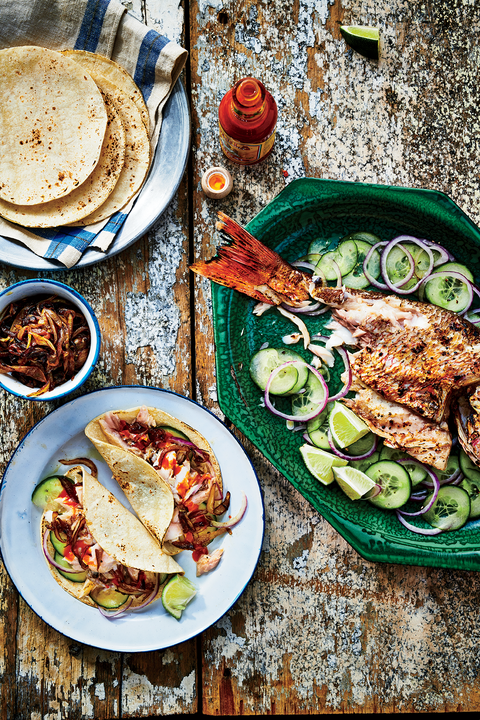 Ted Cavanaugh
What you'll need:
1 Tbsp oil
3 medium yellow onions, thinly sliced into half moons
¼ cup Maggi sauce, plus 1 Tbsp
1 garlic clove, finely chopped
2 Tbsp mayonnaise
1 Tbsp butter, melted
1 tsp soy sauce
1 tsp Worcestershire sauce
Juice of ½ lime
1 snapper or bass (2 to 3 lb), split open, spine removed
How to make it:
For serving: warm corn tortillas,* thinly sliced red onions, thinly sliced cucumbers, hot sauce
1. In a large skillet on medium, heat the oil. Add the onions and cook, stir­ring often, until they begin to wilt and shrink, about 5 minutes. Add the ¼ cup Maggi sauce and cook, continuing to stir fre­quently, until the onions are melty and sweet, 20 to 30 minutes.
2. In a large bowl, stir the garlic, mayo, butter, soy sauce, 1 Tbsp Maggi sauce, Worcestershire, and lime juice. Check the taste and add more of any of these, if needed.
3. Preheat your grill to medium, direct heat. Open up the fish, season it with salt and pepper, and then use a spoon to apply a layer of the sauce to the flesh side, slathering it generously. Now clamp the fish into a grill basket and start it skin side down. Flip the fish every 3 to 5 minutes until both sides are well browned and mottled with a few darker spots, about 15 minutes.
4. Bring the fish to your kitchen, unclamp it, and set it on a platter. Arrange some rings of red onion and cucumber disks around it and serve with hot tortillas, the Maggi onions, and a bottle of your favorite hot sauce. Your guests can take it from here.
*Cold tortillas taste terrible and tend to disintegrate when you fill them. Heat them over direct heat on the grill until puffy and mottled. Then swaddle them in a clean kitchen towel to help them steam.
Source: Read Full Article