02.24.23
12 Great Money Apps to Help Docs Grow Their Wealth
Smartphone apps have become wildly popular for helping people to manage their money. There's no shortage of money-focused apps to try; in 2021, there were more than 573 million financial app downloads in the United States, up 19% from the previous year, according to data from Insider Intelligence. Such apps can be particularly helpful for physicians, whose notoriously packed schedules may not leave them much time to manage their finances.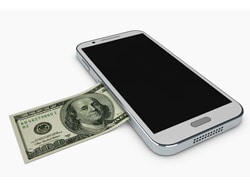 "These apps are a great starting place for a physician beginning on their financial journey," says Michael Tanney, a partner of New York-based Magnus Financial Group. "They have a low barrier to entry and at least let you understand which direction you're facing."
That said, there's no substitute for a human financial advisor, Tanney says, and you'll likely want to get professional help as your money situation gets more complicated.
Here's a look at some apps that could help you get your financial house in order: (Note: Medscape and WebMD do not endorse any of the apps on this list, nor do they receive financial compensation from any of the companies that produce them)
APPS FROM YOUR BANKS OR OTHER FINANCIAL INSTITUTIONS
Most financial services now offer deep functionality with their apps. Many banking apps, for example, allow you to set savings goals for yourself and track progress toward them, and your credit card app may allow you to see your spending broken down by category or merchant.
You should also download the apps from your insurance providers, many of which allow you to track and file claims and have access to important policy information if you need it.
APPS FOR BUDGETING
Mint (from Intuit)
What it does: One of the original budgeting apps, Mint allows users to connect all of their financial accounts (credit cards, bank accounts, etc.) to the app to track their spending and how it changes over time. You can also use it to create and manage a budget or savings goals (the app makes suggestions based on your spending history) and set up notifications to see how well you're sticking to them. The user-friendly graphics on your home screen make it easy to quickly understand your money situation at any given point.
Why it's helpful: "It's a powerful, simple tool that's easy to use," Tanney says. "It's a 30,000-foot snapshot of where your money is."
Cost: Free for the basic app. The premium (ad-free) version costs $4.99 per month.
You Need a Budget (YNAB)
What it does: YNAB helps you create a spending plan, using a zero-based budgeting approach (which means you need to justify all expenses for each new budgeting period), and remain on track by connecting to your financial accounts and updating in real time. You can create additional financial goals with the app, such as getting out of debt or saving for a down payment on a home, and track and adjust your progress toward those goals over time.
Why it's helpful: "The details are very granular and minute," says Grant Sabatier, owner of the blog Financial Residency.
Cost: Free for the first 30 days, and then $99 per year or $14.99 per month
Rocket Money
What it does: Formerly known as True Bill, Rocket Money helps you make sure you're not paying for subscriptions you don't use. It tracks all your recurring bills, so you're less likely to forget about them, and notifies you when you have duplicate subscriptions or prices go up. It can also negotiate on your behalf for better rates.
Why it's helpful: Managing your subscriptions is an easy way to eliminate unnecessary costs from your budget. A recent survey by FinanceBuzz found that a quarter of consumers are spending more than $75 per month on streaming subscriptions alone, and 10% have no idea how much they spend.
Cost: There's a free version. The premium version, which syncs your balances and provides additional concierge services, costs $3-$12 per month. If Rocket Money successfully negotiates a lower rate for you on one of your bills, you'll pay 30%-60% of the first year's savings.
Qapital
What it does: With a focus on automation and making it as easy as possible to manage your finances, Qapital is a budgeting app that can also help you get started on the path toward other money goals like saving and investing.
Why it's helpful: Qapital's tools are designed for users who want to "set it and forget it," making it a great options for busy professionals who don't have a lot of time to dedicate to personal finance.
Cost: Free for the first 30 days. Then it has three tiers, ranging from $3 to $6 per month.
FOR TRACKING YOUR NET WORTH
Personal Capital (Empower)
What it does: "It's like a dashboard for your financial life," Sabatier says. "The app connects with not only your bank accounts and credit cards, but also your mortgage provider, other lenders, and investment account. Then it gives you an up-to-date snapshot of all your current assets and liabilities — and how they're changing.
Why it's helpful: Tracking your net worth early in your career can help you avoid lifestyle creep as your income rises. "Often, physicians graduate and get a six-figure job and immediately start splurging on a nice car and house," Sabatier says. "But if you want your net worth to trend positively, you have to keep your expenses low and focus on your income rather than your net worth."
Cost: Free for the dashboard, but you can also work with a financial adviser through the app. If you use it to manage your investments, fees range from 0.89% of assets under management (AUM) to 0.49% of AUM, depending on your balance.
FOR INVESTING
Acorns
What it does: After you connect your credit cards with Acorns, it will automatically "round up" every purchase you make. Once your "change" reaches $5, the app deposits it into a diversified investment account comprised of exchange-traded funds (ETFs) based on your risk tolerance and goals.
Why it's helpful: Acorns makes it easy to start investing automatically.
Cost: $3 per month for individuals and $5 per month for families.
Stash
What it does: The Stash app aims to help beginners get started with investing. Once you deposit money in the app, you can build your own portfolio or accept the app's automated, customized portfolio based on your risk tolerance and investment goals. There's an option to link a debit card to the account and receive 1% rewards in stock in the companies from which you make purchases.
Why it's helpful: Stash also provides unlimited, personal investment advice to users and market insights to help users increase their understanding of the markets.
Cost: The basic version is $3 per month, and the premium version costs $9 per month.
FOR MANAGING FINANCES WITH A PARTNER
Honeydue
What it does:
While you'll each have your own account on Honeydue, you can link them and message each other within the app. It can connect to both your personal and joint accounts to get a holistic picture about how you're spending your money and progressing toward your goals together. You can set individual spending limits in certain categories, and let you know if you or your partner approach those limits. It also helps you coordinate bill payment with your partner.
Why it's helpful: Nearly three quarters of married or cohabitating couples say that financial decisions are a source of tension in their relationship, according to the American Institute of Certified Public Accountants. This app aims to reduce the friction that money can cause.
Cost: Free
Monarch
What it does: Monarch allows you to update all of your accounts for a holistic view of your joint and personal finances, including credit cards, bank accounts, and investments. It analyzes your transactions to provide personalized spending insights as well as personalized planning advice.
Why it's helpful: Monarch Money has more automation than some of the other budgeting apps, which could appeal to users who want a higher-level perspective. Plus, it doesn't have any ads.
Cost: Free for the first seven days, then $14.99 per month or $99.99 per year.
Goodbudget
What it does: Goodbudget digitizes the old "envelope budgeting" method, allowing you to assign a certain share of your income each month to various virtual envelopes dedicated to specific categories. You and your partner can both see the envelopes at any time, and quickly see whether you're spending more than planned in a specific category.
Why it's helpful: The envelope method is especially good for those who are new to budgeting, or have a partner who is.
Cost: The free version gives you access to 20 envelopes across two devices and one year of history. The premium version costs $8 per month and includes unlimited envelopes across five devices, and it saves 7 years of history.
FOR PAYING OFF DEBT
PocketGuard
What it does: In addition to syncing with accounts and offering budgeting features, PocketGuard helps you choose the best strategy for paying off debt, such as credit cards and student loans, using a method that works best for your financial situation. The app tracks your payments and keeps you updated as you progress on your debt-free journey.
Why it's helpful: Student loans and mortgage debt were among the top two reasons cited by physicians in a recent Medscape poll that were preventing them from building wealth.
Cost: Basic version is free, but premium costs $7.99 per month, $34.99 per year, or $79.99 for a lifetime.
FOR MAKING THE MOST OF YOUR CREDIT CARD REWARDS
Card Curator
What it does: Card Curator looks at all your existing credit cards and makes recommendations for which card to use for specific purchases to maximize your rewards based on your preferences — such as getting the most cash back or earning the most miles for a specific trip. It can also recommend additional cards that would help you reach those goals, and lets you know if you should cancel cards that are not worth it.
Why it's helpful: Credit card rewards can be extremely lucrative, but physicians may not have time to sort through all the cards and offers to determine which to use for every transaction.
Cost: Free for 90 days, and then $5.99 per month or $60 per year.
For more news, follow Medscape on Facebook, Twitter, Instagram, YouTube, and LinkedIn
Source: Read Full Article