03.11.23
3 Texas women sued for allegedly helping friend access abortion pills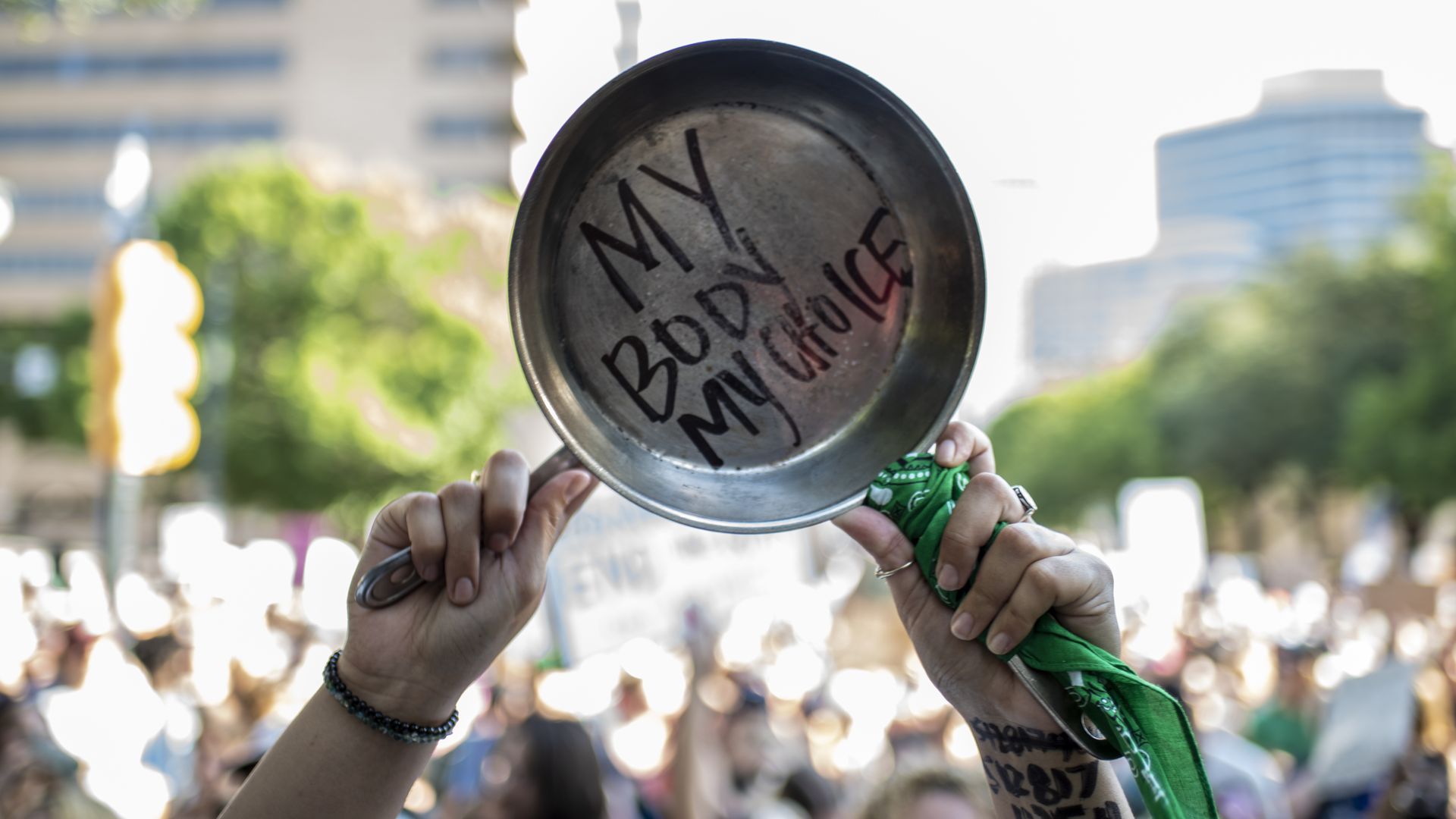 Protesters march during an abortion rights rally on June 25, 2022 in Austin, Texas. Photo: Sergio Flores via Getty Images
Three women are facing a lawsuit for wrongful death after a man accused them of helping his ex-wife obtain medication for an abortion.
Driving the news: The lawsuit is the first of its kind under Texas' near-total abortion ban, which could make it a crime for anyone to help a pregnant person access the procedure.
Marcus Silva has alleged that his now ex-wife realized she was pregnant in July 2022, a month after Roe v. Wade was overturned and a month before Texas' trigger ban went into effect.
Two of his ex-wife's friends allegedly texted her with information about Aid Access, an international group that provides abortion pills via mail, before appearing to decipher a way to obtain the medication in Houston, according to the complaint.
The third woman delivered the medication, the lawsuit alleges.
Details: Court records show that Silva's wife filed for divorce in May 2022; it was finalized in February, the Texas Tribune reports.
In text messages attached to the complaint, she expressed concern that Siva would "use it against me" and try to make her stay with him. "And after the fact, I know he will try to act like he has some right to the decision."
Her friends appeared to agree, with one texting: "I just worry about your emotional state and he'll be able to snake his way into your head." They also encouraged her to delete their text conversation.
The lawsuit argues that obtaining a self-managed abortion is a crime of murder and that Silva as such has ground to sue the three women, who have not been criminally charged, under the wrongful death statute.
Silva's wife is not named in the suit; Texas' laws exempt the pregnant person from prosecution.
Between the lines: The lawsuit says the abortion took place in July. However, at the time, the state's trigger ban had not yet taken effect — the law became enforceable in late August.
Our thought bubble: The lawsuit brings attention to the idea that anyone other than a health provider could be punished under Texas' trigger ban, which does not specifically state that penalties apply only to "licensed physicians."
Abortion bans have so far specifically focused on penalizing doctors, and this case could potentially change that, even as anti-abortion groups say the focus for prosecution should be on providers.
Of note: While Texas' trigger ban states that providing an abortion could be considered a first-degree felony — punishable by life imprisonment or a term between five to 99 years — it makes no mention that abortion should be considered murder.
Source: Read Full Article