02.22.23
How abortion pills work and why they're in the spotlight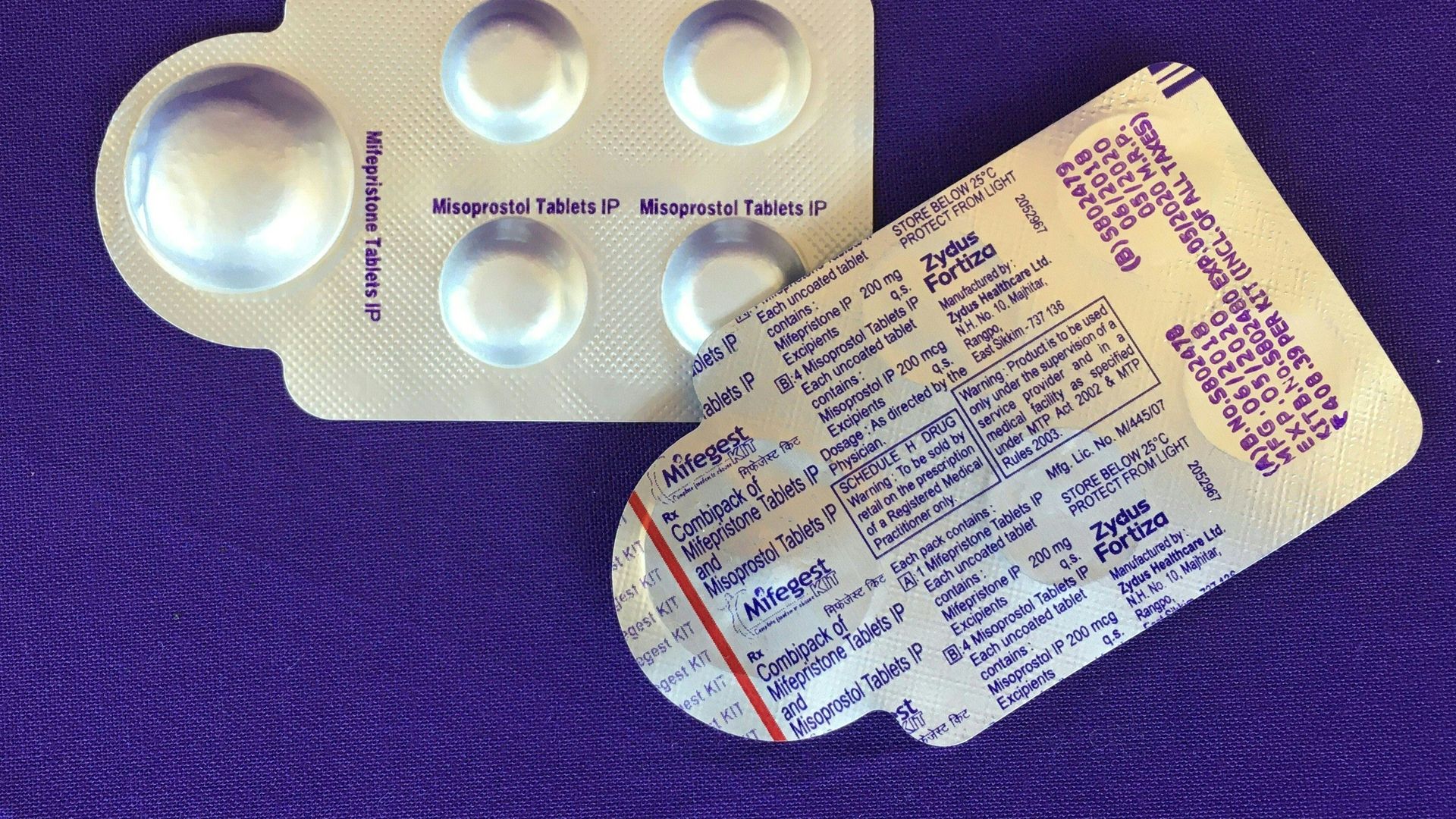 A combination pack of mifepristone (left) and misoprostol tablets, two medicines used together as the abortion pill. Photo: Elisa Wells/ Plan C/AFP via Getty Images
The fight over abortion pills has been escalating since before Roe v. Wade was overturned, but their availability is in danger now more than ever.
Why it matters: With pills now accounting for the majority of abortions, opponents of the procedure are focusing on legislatures and courts to erect barriers. But that's triggering thorny legal questions, foremost of which is playing out in a federal court in Texas over whether the FDA has the final say on whether the pills are safe.
Abortion pills have been available in the U.S. for decades, and while the FDA says that medical evidence shows they are safe and effective, the drugs have been subject of fights over manufacturing, distribution, insurance coverage and who can provide them.
Confusion around the drugs continues in the U.S., where nearly half of adults say they are not sure whether medication abortion is legal in the state they live in, according to a recent KFF survey.
How often are abortion pills used?
Over half of abortions in the U.S. occur via abortion pills, according to the Guttmacher Institute, a research organization that supports abortion rights.
Abortion pills are often accessed online and mailed to patients, effectively working to circumvent state bans and restrictions that took effect after the Supreme Court overturned Roe v. Wade.
How do abortion pills work?
Medication abortion normally consists of two pills: mifepristone and misoprostol.
Mifepristone is approved by the FDA to be used alongside misoprostol to end a pregnancy during the first 10 weeks — this includes elective abortions and miscarriages.
A patient first takes 200 mg of mifepristone orally to stop the pregnancy from growing. This is followed 1-2 days later by 800 mg of misoprostol taken buccally — placed between the gums and cheek — which causes cramping and bleeding to empty the uterus.
The mifepristone-misoprostol combination regimen has been found to be at least 95% effective at terminating a pregnancy.
Zoom in: Misoprostol — which is approved for the prevention and treatment of gastric ulcers — can also be taken on its own for medication abortion, a method that is supported by the World Health Organization.
While misoprostol is not specifically FDA-approved for abortions, it can still be used to terminate a pregnancy. A health provider has the authority to prescribe the drug for off-label use if they consider it to be medically appropriate.
The misoprostol-only method is slightly less effective than the combination regimen. A February study with over 1,000 U.S. participants found that using misoprostol alone was 88% effective at ending a pregnancy.
How are the pills used in miscarriage care?
The mifepristone-misoprostol method is considered the most effective medication regimen for managing early miscarriages, per Planned Parenthood.
The drugs are used to make sure that pregnancy tissue passes after there has been a miscarriage, which makes the patient experience bleeding.
While pregnancy tissue can pass naturally and take a few weeks to do so, the experience can be incredibly distressing for the pregnant person, so they can take mifepristone and misoprostol to ease and speed up that process.
Details: a 2018 study from the New England Journal of Medicine found that the combination regimen was more effective than the use misoprostol alone, as well as a reduced likelihood for additional treatments — which might include additional doses of misoprostol or potentially surgical intervention.
How safe are abortion pills?
Abortion pills are considered safe and effective by major medical groups, such as the American Medical Association and the American College of Obstetricians and Gynecologists.
"Medication abortion using mifepristone and misoprostol has always been part of my practice. It's incredibly safe and effective for people to end their pregnancies or to treat their pregnancy losses or miscarriages," said Jamila Perritt, president and CEO of Physicians for Reproductive Health and an OB-GYN in Washington, D.C., during a roundtable with abortion providers.
Zoom out: Mifepristone is approved for abortion use in over 80 countries.
Why is mifepristone at risk of becoming unavailable?
A coalition of anti-abortion groups in November filed a lawsuit challenging the FDA's overall approval of mifepristone. The plaintiffs argue that that the FDA did not properly authorize mifepristone for terminating pregnancies.
The lawsuit was filed in the Northern District of Texas, where a Trump-appointed federal judge who has openly opposed Roe v. Wade is considering whether to temporarily block the FDA's approval of mifepristone, which would make the medication unavailable even in states that protect access to abortion.
Meanwhile… Two lawsuits in North Carolina and West Virginia are challenging restrictions in those states to settle the question on whether states can regulate or limit drugs that have been approved by the FDA.
How do you access medication abortion?
The FDA first approved mifepristone for pregnancy termination in 2000 under the agency's Risk Evaluation and Mitigation Strategy, a program that adds dispensing restrictions to certain drugs, including requiring specific certifications for those who prescribe them.
Since its initial approval, the FDA has loosened mifepristone's REMS restrictions over the years, including getting rid of the original in-person requirement and allowing the drug to be accessible via telehealth, as well as letting pharmacists become dispensing-certified.
State of play: Patients can go on websites like Aid Access, Hey Jane and Choix to get the drugs online and have them mailed.
Yes, but: At least 17 states have laws in place that prohibit the use of telemedicine to access abortion medication, and instead require patients to take the treatments in a health care facility.
So-called trigger laws took effect that can make it impossible for people to access abortion pills. Since then, pill providers have experienced soaring demand online.
Most of these bans and restrictions are specific to the pill provider, not the patient. As a result, a user could travel across state lines to pick up the pills.
Some telemedicine providers — such as Aid Access — are located overseas and mail the pills to all 50 states. However, people who live in red states face a higher risk of prosecution.
What's happening: The FDA recently made a regulatory change to allow retail pharmacies to offer abortion pills, an update that looks to expand access as more red states move to ban or restrict access to abortion.
Walgreens and CVS, two of the largest U.S. pharmacy chains, have said that they plan to have some of their pharmacies certified to dispense mifepristone, as long as it does not conflict with state and federal law.
Source: Read Full Article