11.09.22
In Patients With Untreated AIDS, Monkeypox Can Be Life-Threatening
Monkeypox, though often mild, may be severe and even fatal in immunocompromised individuals, particularly those with untreated AIDS, according to a Centers for Disease Control and Prevention (CDC) study in Morbidity and Mortality Weekly Report.
The study described a group of patients recently treated for severe monkeypox. The majority were Black, HIV-positive, and not receiving treatment. Many were also facing homelessness.
The authors urged HIV testing for all sexually active individuals with suspected monkeypox. Early or prolonged monkeypox treatment may be necessary, they concluded.
Co-author John T. Brooks, MD, called the study "a real call to action."
"If we want to reduce cases of severe monkeypox, we need to reduce the number of persons with HIV who are undiagnosed and not treated," said Brooks, a medical epidemiologist who is chief medical officer of CDC's multinational monkeypox response. Brooks also leads the Epidemiology Research Team in CDC's Division of HIV/AIDS Prevention.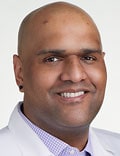 Richard Silvera, MD, MPH, CPH
The article reflects long-existing health disparities, noted Richard Silvera, MD, MPH, CPH, who is associate program director of the Infectious Diseases Fellowship and assistant professor of medicine (Infectious Diseases) at the Icahn School of Medicine at Mount Sinai in New York City. He was not involved with the study.
"These patients really have not been served by the healthcare system," Silvera said. "Monkeypox is just really taking advantage of that."
How Severe Monkeypox Can Manifest
The authors reported on 57 adults hospitalized with severe monkeypox between August 10 and September 10, 2022, for whose care the providers sought CDC consultation.
The vast majority (95%) were men, their median age was 34 years, and 68% were Black. Nearly 1 in 4 were homeless (23%).
Overall, 47 (82%) were HIV-positive, of whom just four had been receiving antiretroviral therapy (ART). Of 43 for whom CD4 counts were known, 71% had fewer than 50 CD4 cells/mm3.
Clinical signs included severe skin lesions in all patients and severe mucosal lesions in 68%. Other affected organ systems included lungs (21%), eyes (21%), and central nervous system (7%).
Treatments included oral or intravenous tecovirimat (93% and 65%, respectively), vaccinia immune globulin intravenous (VIGIV, 51%), and cidofovir (23%).
Nearly 1 in 3 patients (30%) received care in an intensive care unit; 12 died (21%). Monkeypox was considered the cause or a contributing factor in five of the deaths and not a factor in one death; the remaining six deaths are under investigation.
Case Studies
The report included details of three representative cases of the CDC consultations.
One was a Hispanic man in his 20s with a fever of 102.8 °F, a rash including eschars, oral lesions, neck mass, and cervical lymphadenopathy. He had tested positive for monkeypox as an outpatient and upon admission was found to be HIV-positive, with a CD4 count of 79 cells/mm3. He experienced a severe and ultimately fatal clinical course that included intubation, refractory hypotension, seizures, renal failure, and cardiac arrest. An autopsy revealed diffuse organ necrosis plus orthopoxvirus and cytomegalovirus.
The second was a Black man in his 30s with untreated AIDS and diffuse rash. He was tested and treated for gonorrhea, chlamydia, and syphilis before phimosis and urinary retention led to admission and a monkeypox diagnosis 4 weeks after his rash began. He was discharged with oral tecovirimat, but his skin lesions developed necrosis and he was readmitted twice, each time with new lesions. His clinical course included methicillin-resistant Staphylococcus aureus bacteremia, atrial fibrillation, eye and ear involvement, a suprapubic catheter, and progressive necrosis of his lesions. As of the CDC report, he was receiving ART and intravenous tecovirimat.
The third patient, a White man in his 40s with untreated AIDS, presented with diffuse rash. He was promptly diagnosed with monkeypox and admitted for pain control. He was discharged with oral tecovirimat and ART, but homelessness and food insecurity jeopardized the absorption of his tecovirimat (which depends on a full fatty meal), and the lesions worsened. Despite readmission and aggressive medical treatment, the patient required finger debridement and a toe amputation. After discharge, he was again readmitted for lesions and pain and, at report publication, remained hospitalized, taking oral tecovirimat and ART.
The patients in the study may not be typical of severe monkeypox cases, write the report authors. Deaths after the study period were not counted.
Fewer Cases, Some Severe
As of November 7, the CDC has confirmed 28,709 monkeypox cases. These have trended downward since August. Most people with recent diagnoses are men who are gay, bisexual, same-gender-loving, or who have sex with men, and most are Black, according to Brooks.
Brooks urges clinicians to report suspected monkeypox cases — especially severe ones — to their health departments.
"We don't have a good bead on exactly how many severe cases there are in the States because of complexities in our surveillance systems," Brooks said.
For patients with suspected or confirmed monkeypox, Brooks recommends testing for sexually transmitted infections, including HIV if status is unknown. Patients with HIV should receive prompt ART. For those at risk for severe disease, the authors recommend early treatment for suspected monkeypox, even before results are back. Some patients may benefit from tecovirimat courses lasting beyond 14 days, plus additional antivirals (cidofovir or brincidofovir) and/or VIGIV.
"With severe cases, clinicians may want to consider the value of more than one drug to attack the virus at different stages of its replication cycle," Brooks said.
Inequities Matter
The authors called on providers to engage communities burdened by HIV and to ensure access to not only monkeypox vaccination, diagnosis, and treatment but also sustained HIV care.
Silvera adds that providers need to tailor care plans to patients' social determinants of health. For example, he explained, inpatient care for monkeypox could be appropriate for some patients facing homelessness and food insecurity — even if they are able to take tecovirimat orally.
He recommends tapping others' expertise: "Our social work colleagues are well versed in this."
"I don't think these clinicians failed these patients… I think everyone made all the right choices medically," Silvera added. "I think that the system failed these patients — and we as clinicians are part of those systems. So we also have the power to change those systems. And I think we just need to start opening our eyes to that and [start] to work together towards that goal to take better care of our patients."
Brooks reported no relevant financial disclosures.
MMWR Morb Mortal Wkly Rep. 2022;71:1412-1417. Full text
Jenny Blair, MD, is a journalist and editor in Vermont.
For more news, follow Medscape on Facebook, Twitter, Instagram, and YouTube
Source: Read Full Article