10.11.18
Navratri 2018: Add a twist to your platter with these kebab and tikka dishes
Celebrate Navratri by making these special tikka and kebab dishes, courtesy Chef Harangad Singh, Pra Pra Prank, and Chef  Akshay Bhardwaj, Swad Eastman Colour.
Here are two dishes that your family can enjoy this Navratri.
Lychee Tikka by Harangad Singh
Ingredients:
180gm seedless canned drained lychee, 30gm almonds chopped, 30gm pista chopped, 30gm cashew nut chopped, 20gm khoya grated, 50gm hung curd 5gm turmeric powder, 5gm cardamom powder, sendha namak (rocksalt) to taste
Method:
For stuffing, mix all the chopped ingredients and khoya together.
Stuff the drained lychees with the prepared stuffing.
Get the marination ready by mixing hung curd, turmeric and cardamom powder.
Marinate the prepared lychee and heat it in oven for 20 minutes at temperature of 180 degrees Celsius.
Serve with mint chutney.
Also Read: Make kuttu pizza and chaat for your kids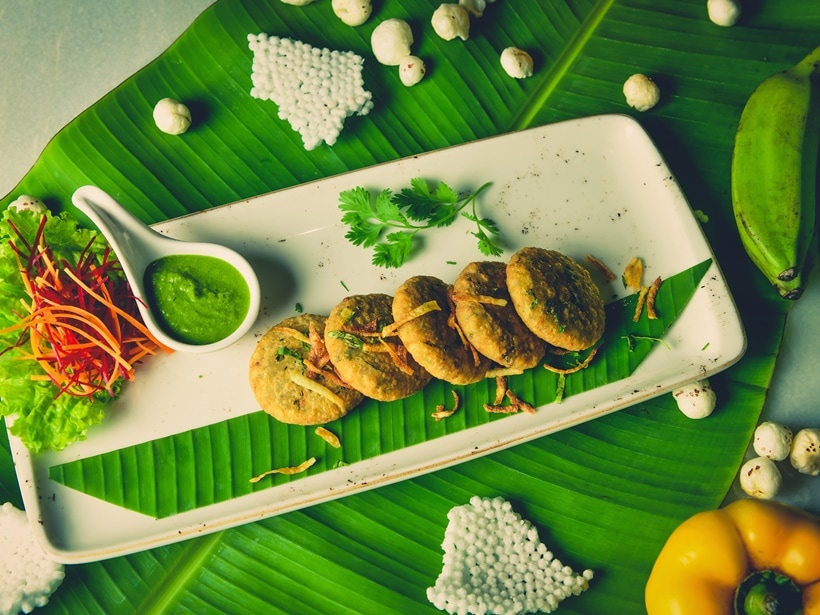 Kachhe kele aur paneer ke kebab by Chef Akshay Bhardwaj
Ingredients:
150gm kacha kele (plantain), 30gm boiled potato, 50gm paneer, 5gm green chilli, 5gm chopped coriander, 3gm sendha namak (rocksalt) 15gm desi ghee
Method:
Mix kacha kela mashed with boiled potato.
Grate paneer on the side and mix to form a creamy mix.
Add green chillies to the paneer paste.
Mix both the mixtures with chopped coriander and finally season with sendha namak.
Make small tikka size patties with the mix and shallow fry in desi ghee to get a nice brown colour on both sides.
Source: Read Full Article